Simon Hoggart was one of our most respected parliamentary sketch writers – and he grew up in Leicester. Back in 2007, he told me about Westminster, Wyggeston and why you had better watch Brown. Simon, much to our loss, left this mortal coil in January 2014.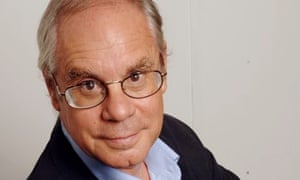 It has been a surreal morning for politics in the capital, ruminates Simon Hoggart, The Guardian's political sketch writer.
The 61 year old has just returned to his desk after witnessing Tony Blair's final press conference at Number 10, where he was joined by Arnold Schwarzenegger, aka The Terminator, aka the Governor of California.
Arnie "in his incredible voice" was praising Blair's climate crusade, says Simon.
"I don't know what rubbish the press officer has been feeding him," he remarks bluntly, "but you do wonder what planet he's on."
As for Blair, a "C of E vicar without even a tambourine", the journalist musters an Academy Award-worthy impersonation of the outgoing PM's final words to the Westminster press pack.
"My press officer said to me," he simpers, "whatever else you do this morning, don't say, 'I'll be back'."
With his deadline now gone, the award-winning writer and former presenter of Radio 4's News Quiz, turns his attention from his day job to Leicester, where he grew up.
Fortunately, it turns out he has fonder memories of Wyggeston Boys' School than he has of the outgoing Prime Minister.
"You know how best-selling books have stories of how people grew up being beaten and chained to the radiator?" he says. "I had the opposite childhood: it was incredibly nice."
Simon came to Leicester from Hull in 1959, when he was 13. His dad, Richard, had started at Leicester University as an English lecturer and the family moved into a house in Central Avenue, near Victoria Park.
"I was like an Army brat, dragged round the world. But I was an academic brat and you move from one university to another."
Wyggeston, he remembers, was an "enlightening and a nice place, with no physical violence" although his broad northern accent was a cause for a spot of light-hearted ribbing, but neither the dialect nor the mickey-taking lasted long.
Simon was also in the same school year as actor Tim Piggot-Smith.
"He was a friend, but not a close friend," says Simon, who recalls joining Tim's Evangelical Christian group at school. "I wasn't in it for long," he adds.
There is no hint of the journalist's Humberside accent today, nor its Leicester successor: it's more BBC than anything, and his vowels are stretched like a politician's grin, an aural reflection of more than 40 years down south.
These days, home is the rugby Mecca of Twickenham, where he lives with his wife, Alyson, and teenage children Amy and Richard.
Rugby, he confesses, is something he's never really understood, even when he lived here.
"Nobody went to Welford Road in those days, the terraces were almost empty. It was very much a small, middle-class game for hearty people who drank too much. I never really understood the rules, still don't, but my son does."
Instead, Simon and his mates had their fun among the noise and chip wrappers at Filbert Street.
"We knew that Gordon Banks was the best goalkeeper in Britain and we watched him every fortnight. I saw Stanley Matthews at Leicester, too.
"I'd go to Leicestershire cricket club, take some sandwiches and a book, very Billy No Mates. That was great."
Talk turns to the sporting statue, in Gallowtree Gate, the shrine to the city's cricket, football and rugby achievements.
"Appalling," he barks. "It looks like a gay orgy."
As a youngster, Simon's real passion was pop music, "especially what was new music – rhythm and blues, American folk, The Miracles.
"When the Beatles came along, it was a complete revelation that other people had been listening to the same records. It sounds pathetic now, but we'd go up to Bree's record shop, near the Clock Tower."
Records then cost six shillings and eight pence, he recalls.
"There was a stall on Leicester Market which sold records for half price and your money stretched further there."
At 19, Simon left Leicester for King's College, Cambridge, then joined The Guardian in 1973, and later became the writer dubbed the PG Wodehouse of Westminster.
"I really enjoy it. Politics is the same as office politics. The really interesting thing in your office is the head of sales seeing the girl from the typing pool. It's the same for who's going to be running the country, otherwise it would be very boring and routine."
In the course of a 30 minute chat, the journalist is as warm and witty as his humorous sketches on parliamentary life.
He is quite happy to set the record straight – politics is no more seedy than it was when he first started. Furthermore, the politicians themselves aren't all that bad, either.
"They often do really care about making lives better for their constituents," he says.
As for the departure of Labour's most successful prime minister, Simon has been looking forward to it.
"It's been five minutes to midnight on Christmas Day for what seems like months.
"With Blair, the old cliché is true – he was pretty good on domestic affairs, hopeless abroad. Increasingly, he was driven by an almost religious compulsion to do what he has decided is right, whatever anyone else might think.
"Blair and Cameron go through the motions. They're very similar; they're both public school boys, there's not much to choose between them.
"I think the public will be relieved by Brown who isn't all smiles and teeth and spin and who will address them as grown-ups."
* The Hands Of History, a collection of Parliamentary sketches by Simon Hoggart, is out now, published by Atlantic Books, £8.99.