I've just been watching Our World War on BBC iPlayer. It was moving, factual and the action was brilliantly done. Got to the final credit, and saw the name of the director – Bruce Goodison.
Bruce is a Bafta winner who did Our War – a real eye opener on the shit storm in Afghanistan.
Bruce was raised in the county, lived in Leicester and now lives in London with his Leicester wife. He's a bloody lovely chap to interview. Talented and compassionate. An uncompromising film maker. The trickier or more thorny the subject matter, the better.
This is the interview I did with Bruce in 2013.
It's a croaky late night of a voice that answers the ringing mobile on a high speed train heading to King's Cross. Bruce Goodison, the film maker with a Bafta, manages a preliminary hello before launching into a 15 minute monologue about Leave To Remain.
Leave To Remain is his latest film, one that manages to be funny, heart breaking and above all, authentic, as it tells the story of Omar, an Afghan boy caught in the cogs of the UK's asylum machinery.
"It's a story that needs telling, that people need to know about," says the 50-year-old fervently. "It's a story that before now has gone unreported."
If Bruce's name is familiar it's because he's been making documentaries and dramas for years. Although Leave To Remain is his first full length feature. In 2011 he got a Bafta for Our War, an incredible BBC documentary about UK soldiers on the frontline, and he's had other Bafta nominations and even an Emmy nomination for The Flight That Fought Back.
Despite his obvious credentials, funding Leave To Remain, in his own words, proved "F****** hard."
It's taken four years to get to today's press and publicity stage. For Bruce to tell the juvenile asylum story authentically he followed the lives of teenage refugees from sub Saharan Africa, Afghanistan and Iraq living in London. He saw where the children lived, where they hung out, gained their trust, witnessed their Home Office visits and their court cases and rooted for them. It's a little known fact but nine out of ten children asylum seekers are refused leave to stay in the UK.
The film itself used actors, but also real asylum seekers and real stories.
The full body immersion experience of storytelling was something Bruce had first tasted as a young man photographing the Rastafarians of Highfields. It was where Bruce, a white middle class boy, would turn up at any number of Highfields blues parties, the only white face there, and keep tempo with the music with the click of his shutter.
And yet opening a window on the child asylum seekers of Newham and Tower Hamlets was beyond anything he'd experienced before.
"It floored me," he admits. "They have experienced what they have experienced and are still able to function as teenagers, but have to also behave as adults, as their own parents. I find this concept mind blowing. They're 12 or 14, without their family, without their culture, without their language. The place you come to, they think, is going to be a safe place, and then it turns out to be one that treats you as a criminal.
"I suppose that started my understanding of what they've endured and continuing to endure. It felt more like a brutal punishment for something that wasn't their fault in the first place.
"Ask any teenage refugee if they would prefer to be here or at home, even if bombs are dropping, they would prefer to be at home, with their family, their food and their culture. I'm always at pains," he adds, "to separate kids out from adults who have the choice to be here."
Bruce followed the asylum process closely. What he saw disturbed him. It scared him how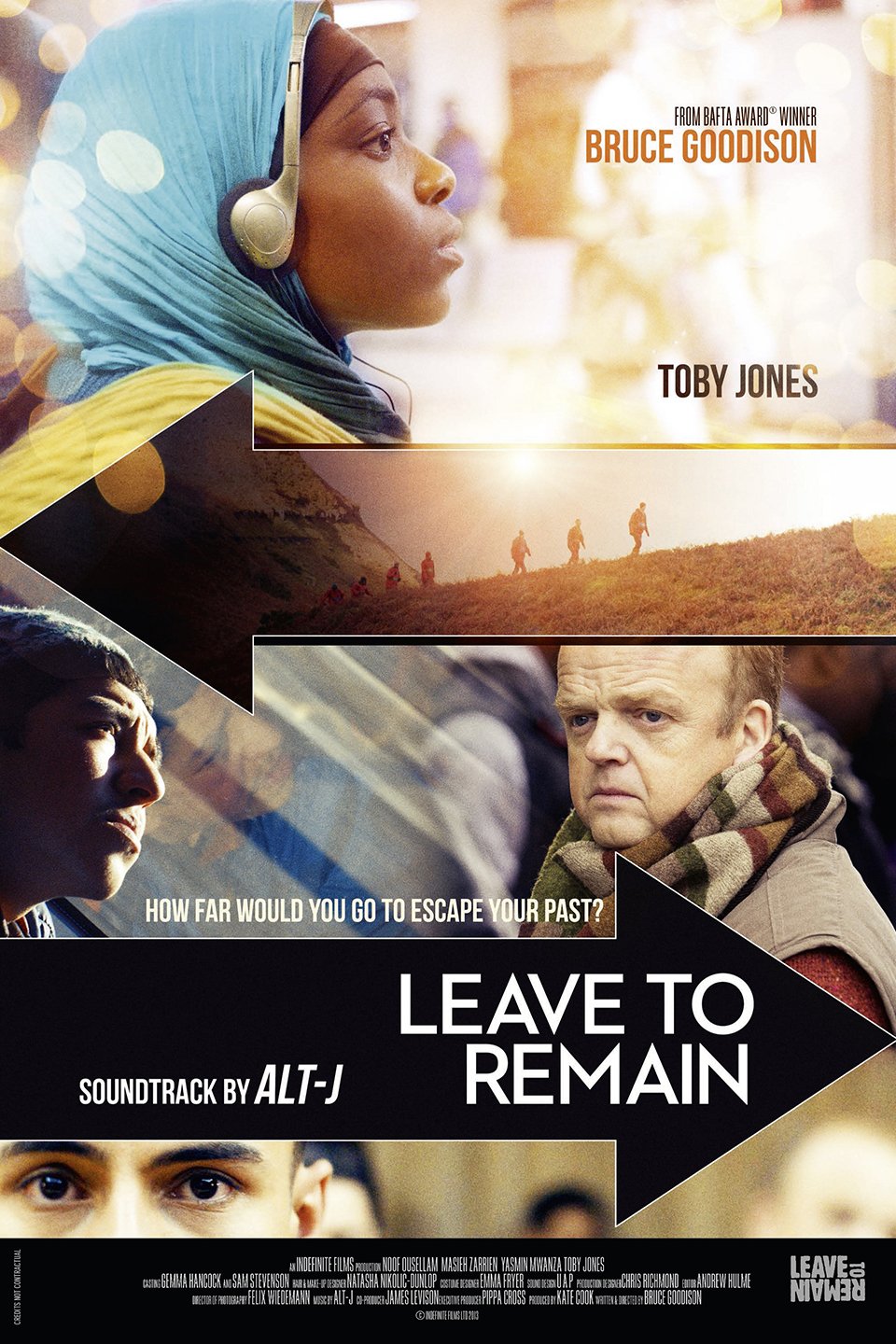 we treat children. "I didn't know this world, I hadn't seen it reported," he says. "I thought this needs to be told in the most sensitive and clearminded way."
Some of the children he met had been trafficked, some felt ashamed at being an asylum seeker and didn't want to be identified. Some had been raped. One 14-year-old had been put in a dive of a hotel which was also home to newly released prisoners. She wasn't given any instructions. She didn't leave the building for four months, believing she was imprisoned. During that four months she was raped by several men. And became pregnant.
"She was catatonic by the time she came out," says Bruce. "She didn't speak for months.
"The sharpest end of the appeal process is you're 16 and you have to fight for your life. For your very existence, when you've done nothing wrong. And you're pitted against a Home Office protection officer, a lawyer and judge."
Leave To Remain was shot over 22 days in the East End and set in East Ham and Stratford. It's a world away from the farm in Claybrooke Magna, near Lutterworth, where Bruce grew up. "I went to Lutterworth High School and then moved to Leicester," he adds. "My mother worked at Highfields Community Centre. I then went to Lancaster Boys' and then Wyggeston QE2.
While still at Claybrooke, his mother would bring home young girls forced into arranged marriages, or families from Uganda desperate for help. His taste for the exotic, he adds, started young.
"And then I worked as a photographer. I took my pictures around Highfields. The photography thing was almost an accident. I worked in a dark room and started seeing lots of photos that photojournalists had taken and that made me think, I'd love to do that. The guy that ran the centre was part of a job seeker thing I was on. I went on the street with my camera and started taking pictures of ordinary people doing extraordinary things. I took pictures of Rastas, of different sub cultures, the melting pot that was Leicester."
It was when he exhibited at the Picture House gallery in London Road he found the people who came to his exhibition weren't the people in the pictures, which irked him.
"I think that was what slightly upset me, and the reason I moved to TV and film. I wanted to reach a much broader audience. Film is more powerful. And I guess it all started there," he says, "the need to communicate the margins of society to the mainstream."
Bruce then did a foundation art degree at Leicester Poly and went to Newcastle University and got in with a crowd making poetic and leftist films.
"So I started making films. My very first film was a very sad tragic film about the death of my daughter Camilla, who died in Leicester. She died of cot death and I used photography as a protection against the trauma of it. The chapel of rest was across the road from where I lived in Highfields."
A BBC producer saw the pictures and asked him to make a film about his experience of Sudden Death Syndrome. It ended up receiving an award from the Royal Television Society. He then did six months at ITV, did Def2 for the BBC and then documentaries for MTV. Including one about M&M's mum trying to sue her son for millions.
The past four years have all been tied up with Leave To Remain. Well, almost…last year Bruce married Samantha Palmer in India. He met Samantha, a Leicester woman, at a 50th birthday party in the city a little while back. The couple now live in north London.
He comes back home when he can because his wife's family's in Leicester and his sister Rachel is in Wigston, but also, he laughs, he knows that Melton Road does the best curries in the world and you can find the finest jerk chicken in Highfields.
www.leave2remainthefilm.com